My first trip ever was to Milan, where I travelled with a group of 3 friends for an unforgettable New Year's Eve. Even though I got involved in the brainstorming for the places we should visit, I had no actual interest in taking the control during the trip or sticking to our plan. The more we seized the present day, the better. I wanted to feel like a local, wander through the streets, eat gelato and immerse in the contemplation of masterpieces.
After almost 2 years, I came to realize that travelling is like taking a break from your life and catch a glimpse of how things could have been if born in another country. With this thought in mind, I have started to include in my travelling plans the not so known places that could depict me unexpected sides of a city.
I went back to Milan, this time for a dance festival, having 3 extra days to get in the unexplored spots of the city. Wonder what I've found?! Let's see which are the 5 ways to discover Milan beyond its well-known cosmopolitan, fashionable side.
1. Wander through Botanical Garden of Brera
Address: Via Brera 28
Website: http://www.brera.unimi.it
Admission: Free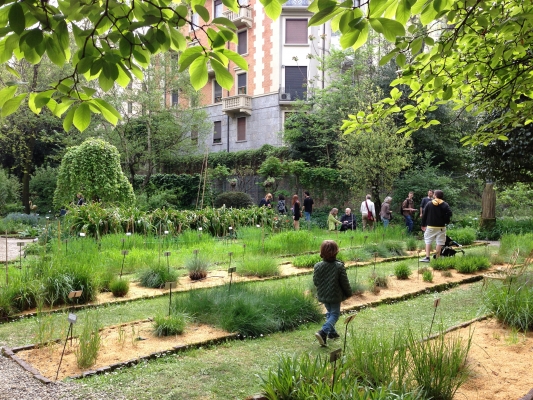 * source: http://www.excusemi.com

Everybody has heard about the Pinacoteca di Brera, which is the main public gallery for paintings in Milan. Few know about the Botanical Garden of Brera, which is hidden away within the gallery. The garden preserves almost entirely the original structure from the 17th century, having hundreds of species of plants and trees from all corners of the world. It's well worth a visit especially during spring when daffodils and tulips start to bloom, bringing colour to the place.
2. Visit Brera Astronomical Observatory

Address: Via Brera 28
Website: http://www.mi.astro.it
Admission: Free
* source: personal archive

The Astronomical Observatory of Brera is the oldest institute of scientific research of the city. I've found it interesting due to its exhibition of old astronomical instruments and other scientific tools used in this field.
3. Have aperitivo and drinks in Navigli
Address: Ripa di Porta Ticinese
* source: www.wheremilan.com
Navigli district makes Milan resemble Venice, with its canals populated with boats and some floating restaurants. The area is rather motley – there is a mix between the bohemian restaurants and modern pubs, delicious Gelato shops and antique stores, all tempting you to enter a creative atmosphere. What makes it special is that from 7 PM until 9PM you can enjoy in most of the pubs an all-you-can-eat buffet(aperitivo) with a variety of local food and cocktails.
4. Go to design exhibitions of Triennale di Milano
Address: Viale Emilio Alemagna, 6
Website: http://www.triennale.org/en
Admission: http://www.triennale.org/en/visita/biglietti-e-info-pratiche-visita
* source: personal archive
Triennale di Milano is found near the Sempione Park. It is a hub rather than a museum, dedicated to contemporary art, architecture and design that hosts outstanding exhibitions which continuously change. After seeing the exhibitions you can relax and refresh in the Triennale Design Cafe where you can taste a delicious cappuccino.
5. Experience a tram ride
Website: https://tramilano.com/tramilano-the-historical-tram
* source: www.likealocalguide.com

Another thing that I really enjoy while travelling is trying the local means of transport. I couldn't help experience a ride with the trams from Milan. They have a retro look and seem to come from a past reality while driving by beautiful aristocratic mansions.
You can make a city tour on the tram line 1 and get to see the streets of Milan through a cosy, historical ride.
Bonus tip: If you are travelling with your partner, you can book in advance a romantic dinner on a unique tram called ATMosphera. This is an itinerant restaurant that serves dinner at 8 PM while leading you slowly to the main attractions of the city. You can find more details here.